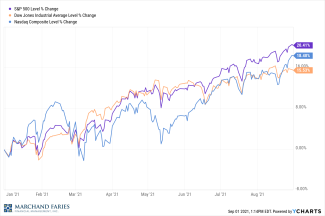 Typically, August is not a great month for stocks, but advances continued this month reaching fresh all-time highs for equities.  The S&P 500 posted its seventh straight monthly advance bringing its year-to-date rise to nearly 21%. The Nasdaq has outperformed with a gain of 4% in August as investors piled back into growth and technology stocks. Meanwhile, the Dow, which is heavy in cyclical stocks with earnings tied to the economic recovery, has underperformed, gaining 1.3% as concerns over the Delta variant surged in recent weeks.
Although many analysts are raising their year-end price target on the S&P 500, there are always dips in the markets that present buying opportunities.  The current Federal Reserve policy environment has also been conducive to further gains in equities, given the Federal Reserve's accommodative policy and the prospects of further government spending with the infrastructure and budget reconciliation bills being discussed in Congress.  Even if passed, infrastructure spending takes its time making any impact in the economy.
The Fed's policy trajectory has been especially closely watched, as investors brace for the gradual easing of crisis era supports like the central bank's $120 billion per-month asset purchase program. Regardless of whether its September or November that we see action by the Federal Reserve, the market seems to have priced it into their expectations.  The impact of the Delta variant has taken its toll on travel and leisure industry while jobs currently show more job openings and fewer willing candidates.
Inflation is a factor that primarily affects those who have no stock exposure.  While Powell didn't give any new real evidence as to why he views inflation as transitory, he did cite the ongoing moderation in commodity prices and the view that history would indicate that inflation is likely to be transitory. 
Year to date, the Dow, S&P 500, and NASDAQ were all positive at 15.53%, 20.41% and 18.40%, respectively, while the 10-year Treasury is currently yielding 1.31%.
*Disclaimer: This report is a publication of Marchand Faries Financial Management, Inc. Information presented is believed to be factual and up-to-date, but we do not guarantee its accuracy and it should not be regarded as a complete analysis of the subjects discussed.  All expressions of opinion reflect the judgement of the author as of the date of publication and are subject to change.