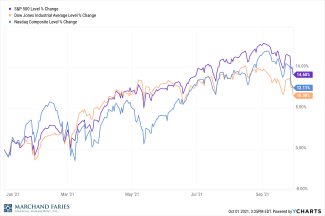 September proved a bit bumpy for stocks with all major indices trending lower for the month.
Markets continue to price in the potential of an additional $400 billion annually of new entitlements, green energy and traditional infrastructure investments that is being debated currently in congress.  The question is will the new revenue from tax increases on corporations and high earners be enough to fund these initiatives?   Another issue is will corporations pass these additional taxes onto the consumers through higher prices leading to accelerated, long term versus transitory inflation?  Perhaps the most interesting comment heard by many is that the funds being spent is "government money".  The truth is the government doesn't make any money.  It redistributes funds received from taxpayers through taxes and penalties and decides as to where those funds are allocated.
For the most part, clients with accumulated assets are in a much more comfortable position than those who felt the brunt of the economic hardships associated with the COVID 19 pandemic, although increases in gas, groceries and other durable goods do not go unnoticed.
So, what's the strategy?  Although some are tempted to look at low quality stocks to boost returns, the current rationale for owning quality stock is the ever changing and uncertain economic environment, concerns around virus variants, inflation, the likely start of the elimination of accommodative monetary policy and the deceleration of corporate earnings.  Rebalancing is also a key aspect to steady long-term growth.  As we enter the final quarter of 2021, we encourage you to contemplate your year-end charitable giving, particularly if you are giving stock gifts.  With staff shortages at many organizations and longer lead times expected, we want to make sure that there is sufficient time to get charitable gifts processed in a timely manner.
Although negative for the month, year to date, the Dow, S&P 500, and NASDAQ are still positive at 10.58%, 14.68% and 12.11%, respectively, while the yield on the 10-year Treasury has climbed to 1.55%.
*Disclaimer: This report is a publication of Marchand Faries Financial Management, Inc. Information presented is believed to be factual and up-to-date, but we do not guarantee its accuracy and it should not be regarded as a complete analysis of the subjects discussed.  All expressions of opinion reflect the judgement of the author as of the date of publication and are subject to change.