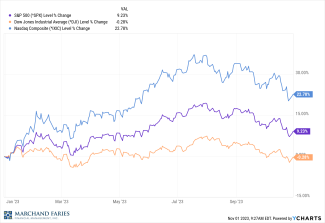 October proved to be a volatile month for the markets. Major indices experienced fluctuations due to a variety of factors, including concerns over inflation, supply chain disruptions, and potential interest rate hikes. Toward the end of the month, markets appeared to stabilize as investors awaited key economic indicators and corporate earnings reports.
Inflation remains a key focal point, with consumer prices continuing to surge in various sectors. This situation raised concerns about its potential impact on consumer spending and corporate profitability, influencing market sentiment.
Global supply chain issues persisted, impacting various industries. Concerns over prolonged supply chain disruptions led to uncertainties in the market, affecting the performance of companies reliant on smooth operations. We watched in horror as the Jewish people saw the largest attack on their people since the Holocaust. These geopolitical tensions and uncertainties, including issues in energy markets, continued to affect investor sentiment.
The Federal Reserve's monetary policy decisions will remain a crucial point of interest. Investors will closely monitor any statements or actions from the Fed regarding potential interest rate hikes or changes to asset purchase tapering.
Corporate earnings reports for Q4 will be closely watched, as they can significantly influence market movements. These reports will provide insights into how companies are navigating challenges, including inflation and supply chain disruptions, and may affect market sentiment.
With the holiday season approaching, holiday retail sales figures will be closely monitored. They will provide insights into consumer spending trends and sentiment, which can indicate the overall economic health and direction. So far, we have seen an increase in dollars changing hands but a decrease in actual goods being purchased.
Uncertainties are likely to persist, and market volatility could continue in the coming months. Keeping a watchful eye on economic indicators, Federal Reserve actions, and geopolitical events will be key in navigating the financial markets.
This commentary provides a general overview and should be supplemented by detailed analysis and further research based on your specific portfolio and investment goals.
The yield on the 10-year Treasury note stands at 4.88%, while the yield on the two-year Treasury yield is at 5.03%. Year to date the major indices closed with the Dow, S&P 500, and NASDAQ at -0.28%, 9.23% and 22.78% respectively.
*Disclaimer: This report is a publication of Marchand Faries Financial Management, Inc. Information presented is believed to be factual and up-to-date, but we do not guarantee its accuracy and it should not be regarded as a complete analysis of the subjects discussed.  All expressions of opinion reflect the judgement of the author as of the date of publication and are subject to change.