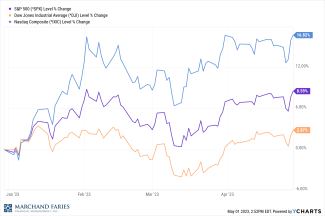 As we look ahead at the Federal Reserve's May meeting, we expect rate hikes to continue at a muted pace of 25 basis points (or ¼ of one percent). Markets tend to be slow in the summers with very few significant earnings announcements and headline news being the biggest contributor to market volatility.
Our focus continues to be on quality investments with the potential for long-term growth and disciplined, strategic rebalancing back to an allocation that is specifically tailored to you.
As many of you probably know, in October of 2020 Schwab completed its $22 billion acquisition of TD Ameritrade, forming a brokerage firm with over $6 trillion in client assets. Since that time, our firm has been working closely with the integration teams at TD Ameritrade and Schwab to prepare for the final conversion to the Schwab platform.
Over the summer we will be preparing for the fall merger of custodians of TD Ameritrade and Charles Schwab. Many of you have experienced these types of mergers with us over the past 25 years from Jack White to Waterhouse to TD Waterhouse to TD Ameritrade, now to Charles Schwab. Our firm has been completing the back-office issues of making sure all Move Money, checking and account access features will transfer seamlessly to the new system. For those who use online access, we expect to have all the features that you use fully enabled 30 days before the transition that is currently scheduled for September 4th.
In the meantime, we will continue with the ongoing investment management of your accounts.
For the first quarter the Dow, S&P 500 and NASDAQ are all ahead 2.87%, 8.59% and 16.82%, respectively. The yield curve continues to be inverted with the 2-year Treasury's yield at 4.03% outpacing the 10-year Treasury which is yielding 3.43%.
*Disclaimer: This report is a publication of Marchand Faries Financial Management, Inc. Information presented is believed to be factual and up-to-date, but we do not guarantee its accuracy and it should not be regarded as a complete analysis of the subjects discussed.  All expressions of opinion reflect the judgement of the author as of the date of publication and are subject to change.