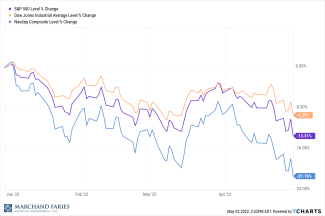 Often April is a negative month with investors having to sell assets to pay taxes. This coupled with slowing growth and the prospect of a faster pace for hikes in interest rates by the Federal Reserve caused the markets to fall. Inflation continues to be a concern as costs of food and fuel continue to batter consumers.
As the Federal Reserve works to battle the inflation tax, one of the key issues is that falling inflation comes with lower GDP growth and therefore lower sales and EPS growth as well. For many companies it could be particularly painful if those declines in inflation are swift and sharp. Our view is that inflation will continue, particularly if fuel prices remain high. Fuel prices impact the cost and movement of all goods that affect the driver of the economy, the consumer.
We are also extremely cautious about the housing market. As mortgage rates increase and the cost of building continues at current levels, fewer consumers will be able to afford a 6 percent versus a 3 percent mortgage. These factors are expected to have a dramatic chilling effect on home prices. Although to be nostalgic, a 6 percent mortgage was an excellent rate in the past and for a time the country had 13 to 15 percent mortgages in the early 1980's. In April of 1980 inflation was running at 14.76% and 30-year mortgage rates peaked at 18.44% in October 1981.
The forecasts for global economic growth have gone from January's 4.4% figure to 3.6% last week, from pressures of the ongoing Russia-Ukraine war. The World Bank has also cut its global growth forecast on April 18 to just 3.2%, citing higher food and fuel costs will fuel a global economic slowdown.
Year to date the Dow, S&P 500 and NASDAQ are all negative at 9.25%, 13.31% and 21.16% respectively, while the 10-year Treasury yield is currently yielding 2.89%.
*Disclaimer: This report is a publication of Marchand Faries Financial Management, Inc. Information presented is believed to be factual and up-to-date, but we do not guarantee its accuracy and it should not be regarded as a complete analysis of the subjects discussed.  All expressions of opinion reflect the judgement of the author as of the date of publication and are subject to change.