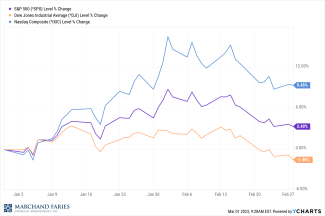 February showed a mixed bag of returns in the equities markets with the technology laden NASDAQ and S&P 500 continuing to have a positive year.  The Dow, which is made up of 30 companies, was affected by several companies projecting reduced earnings for 2023.
The Federal Reserve has shown signs of slowing the pace of interest rate increases proving positive for the markets, despite the release of strong Producer Price Index numbers fueling the resolve of the Fed to use its power to combat inflation.  Currently the Fed Funds rate is 4.75% versus a year ago when it was .25%. While a number of private economists expect the Fed to begin cutting interest rates later in the year, we expect the ultimate rate to settle between 5%-5.5%.  The Federal Reserve's concern is about making the mistake of the 1970s of retreating too early.  Our expectation is that they will use a more moderate approach and may hold rates higher for longer than customary rather than bigger increases.
 There are signs that increased rates have had an impact on slowing the economy with the rate of inflation slowing modestly.  Solid job growth is relatively strong, although employment is still a lagging indicator to the health of the economy. Wage gains continue to decelerate, a sign that we may get inflation under control without a hard landing for the economy.
As always, there are geopolitical events that affect domestic issues.  Sabre rattling by China over Taiwan and more spending on the Ukrainian conflict drain domestic resources.  Investors tend to dislike extended foreign involvement.
Finally, the US consumer continues to be strong, although the pace of spending is being funded by savings rather than income, so that is unlikely to persist indefinitely.
Year to date the Dow is off 1.48 while the S&P 500 and NASDAQ are positive 3.40% and 9.45% respectively. With the yield curve inverted the 2-year Treasury's yield at 4.81% is outpacing the 10-year Treasury which is yielding 3.92%.
*Disclaimer: This report is a publication of Marchand Faries Financial Management, Inc. Information presented is believed to be factual and up-to-date, but we do not guarantee its accuracy and it should not be regarded as a complete analysis of the subjects discussed.  All expressions of opinion reflect the judgement of the author as of the date of publication and are subject to change.