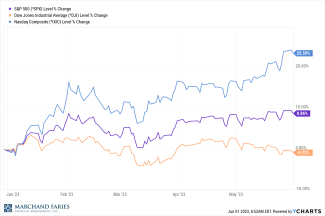 For the month of May, the stock markets as represented by NASDAQ and the S&P 500 had positive results while the Dow slipped slightly.  Volatility remains as governmental fiscal policy takes center stage.
The latest headlines have been primarily centered on the debt ceiling and whether the recent negotiations of a compromise of raising the debt ceiling while cutting spending will pass through congress without significant delay.  After reiterating their incompatible positions, both President Biden and Speaker McCarthy did manage to establish a working framework although neither side got all that they wanted.
Data on the Job Openings and Labor Turnover Survey (JOLTS) suggests Job Openings are expected to decline to 9.4 million in April, down from 9.59 million in March. The number yet to be reported by the Chicago Purchasing Managers' Index (PMI) is forecast to decline to 47.2 in May, down from 48.6 in April. The Federal Reserve (Fed) will release its Beige Book on current economic conditions.  There have been hints by at least two Federal Reserve members that a "skip" as opposed to a "pause" may be appropriate at the next June meeting slated for June 13-14.
One of the biggest factors for rising inflation is consumer confidence and the consumers' appetite for buying goods and services.  The Conference Board Consumer Confidence Index declined to 102.3 in May, a six-month low, as views about the current state of the labor market and business conditions slipped. In the central bank arena, Richmond Federal Reserve (Fed) President, Thomas Barkin, indicated that he is looking for signs that demand is cooling to be convinced that inflation will ease.
Optimism about the debt ceiling debate also strengthened Treasuries. The yield on the 10-year note fell to 3.69%, while the 30-year bond yield fell to 3.90%. Meanwhile, the yield on the two-year note declined to 4.46%.
Year to date the Dow is -0.72%, while the S&P 500 and NASDAQ are ahead 8.86% and 23.59%, respectively.
*Disclaimer: This report is a publication of Marchand Faries Financial Management, Inc. Information presented is believed to be factual and up-to-date, but we do not guarantee its accuracy and it should not be regarded as a complete analysis of the subjects discussed.  All expressions of opinion reflect the judgement of the author as of the date of publication and are subject to change.