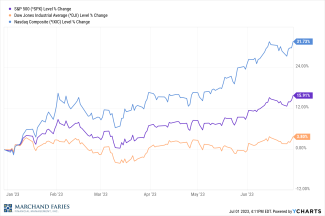 June saw the markets digest the Federal Reserve's pause in their rate hike regimen after additional evidence indicated that inflation was continuing to decelerate.  While the pause was largely expected, inflation is still not at a level acceptable to members of the Fed, and we continue to expect two additional rate hikes before the end of 2023. 
One of the key factors for the Federal Reserve is the unemployment rate, which rose slightly to 3.7%.  Wage growth has also moderated from its peak suggesting that the labor market is softening, and inflation is easing.
While GDP growth grew by 1.3% annualized, it is a sharp decline from the previous quarter's 2.6% pace.  Although consumer and business spending were strong for the quarter, the coming months should moderate with tighter credit conditions for individuals and businesses.  Overall companies have been delivering better than expected earnings with 70% beating their earnings expectations aided by revenue growth.  Profit margins also bounced significantly.  The key to strong stock performance is future earnings and what businesses can do to maintain healthy margins.
This balancing act to avoid a recession will be tricky to navigate as tighter lending conditions and potential overly aggressive rate increases by the Federal Reserve could push the economy over the edge.
The yield on the 10-year Treasury note jumped to 3.84%, while the yield on the two-year Treasury advanced to 4.90%.
Year to date all the major indices are positive with the Dow, S&P 500, and NASDAQ at 3.80%, 15.91% and 31.73% respectively.
The TD Ameritrade and Schwab merger is progressing nicely with just 2 months to go.  Later this month instructions will go out to allow online access to be set up well in advance of the September 5th conversion.
*Disclaimer: This report is a publication of Marchand Faries Financial Management, Inc. Information presented is believed to be factual and up-to-date, but we do not guarantee its accuracy and it should not be regarded as a complete analysis of the subjects discussed.  All expressions of opinion reflect the judgement of the author as of the date of publication and are subject to change.