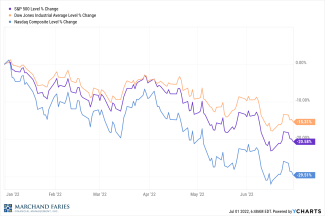 Over the past two and a half years the S&P 500 has experienced two bear markets where the value of the securities in that index have declined 20% from their highs. Despite the decline, the index has returned more than 20% in total return through the end of June. Bear markets are not fun to go through, but they are a reality that follows an extended bull market. One of the positive effects of a bear market is that it tends to shake out people who should not be investors in the first place.
The issue that is getting the most attention is inflation. Some of the causes of inflation are:
Higher commodity prices. Before the pandemic, the supply of oil and gas was getting constrained by a decline in investment caused by low oil and natural gas prices falling out of favor with the ESG initiative. The pandemic caused a further decline in investment. Russia's invasion of Ukraine forced most of the world to excommunicate the third largest producer of petrochemicals.
Another source of inflation is food. Russia and Ukraine produce about 15% of the world's wheat supply. The more important issue is the skyrocketing prices of nitrogen and potassium fertilizers. Russia and Belarus are the second and third largest exporters of potash used to make potassium fertilizer with Canada being the largest producer. Nitrogen fertilizer is made from natural gas. Natural gas prices are up considerably.
The third new source of inflation is higher interest rates, which make all financed goods more expensive, from washers and dryers to cars to houses.
Dwindling supply is another culprit contributing to higher inflation. China is going through another partial shutdown of its economy. Since China makes many of the goods we consume, they will make less of it.
Finally, the war in Ukraine has accelerated deglobalization. Globalization was a great deflationary tool until the pandemic exposed the flaws of our just-in-time inventory policy. The war in Ukraine reminded the West that the global trade system is built on the assumption that we do not go to war with any of our trading partners.
Year-to-date Dow, S&P 500, and NASDAQ remain negative at -15.31%, -20.58% and -29.51% respectively, while the 10-year Treasury yield is currently yielding 2.98%.
*Disclaimer: This report is a publication of Marchand Faries Financial Management, Inc. Information presented is believed to be factual and up-to-date, but we do not guarantee its accuracy and it should not be regarded as a complete analysis of the subjects discussed.  All expressions of opinion reflect the judgement of the author as of the date of publication and are subject to change.