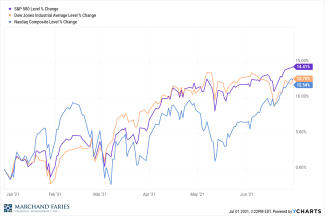 It is hard to believe that we are already halfway through 2021.  Typically, we see many mutual fund managers shore up their holdings with securities that performed well over the last 6 months, a practice known as "window dressing". 
Both the S&P 500 and NASDAQ hit record levels during the month with the Dow being virtually flat for the month of June. 
Meanwhile, the economy continues to improve with unprecedented fiscal and monetary support of low interest rates and several rounds of stimulus payments. Consumer balance sheets remain in good shape, aided by unspent stimulus payments. 
Job gains have not kept pace with the economy but there has been progress and the consensus it that a full jobs recovery is just a matter of time.  A record level of job openings suggests businesses will continue to struggle until either wages go up or enhanced unemployment benefits are discontinued.  All this has led to a robust debate over whether this will contribute to higher-than-expected inflation.  The May CPI indicated a 5% increase over the past year.  This excludes food and gas prices, the latter of which has hit a 7-year high just prior to the holiday weekend.
Low interest rates continue to support high earnings with the positive news being that earnings are expected to grow throughout 2021 and into 2022, barring some extraordinary event,
Year to date, the Dow, S&P 500, and NASDAQ were all positive at 12.73%, 14.41% and 12.54%, respectively, while the 10-year Treasury is currently yielding 1.465%.
*Disclaimer: This report is a publication of Marchand Faries Financial Management, Inc. Information presented is believed to be factual and up-to-date, but we do not guarantee its accuracy and it should not be regarded as a complete analysis of the subjects discussed.  All expressions of opinion reflect the judgement of the author as of the date of publication and are subject to change.