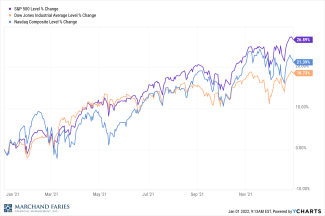 The last 12 months was quite the challenge for the markets. So, what might we expect for the upcoming year? For the stock market we expect higher volatility as everyone adapts to the emergence of newly discovered variants of the virus. Fortunately, we have gone from counting hospitalizations and deaths to counting cases, which are proving to warrant shortened quarantine times and less restrictive policies. Continued volatility will also likely come from the interest rate hikes, rise in inflation or any lockdown measures.
The Federal Reserve announced in December that they will increase interest rates three times in 2022 to combat the rise in inflation. Although accelerated tightening cycles by the Federal Reserve are often detrimental to stocks, many companies lowered costs through the pandemic which will help enhance their bottom line into the future. Earnings growth is slowing and gains over the last 20 months may not be as robust going forward. With more of the US population contributing to qualified plans in their 401k's 403b's and other investments, the stock market is becoming increasingly important to the general economy.
On the fixed income/bond side higher interest rates mean the end of easy money for smaller companies which will have to rely on more creative financing. The yield curve should flatten with the 10-year Treasury moving from its current low closer to 1.75% - 2%. The slower the Federal Reserve goes on rate hikes the lesser the impact on stocks, whereas the higher and faster the Federal Reserve implements rate hikes, the more dips and volatility we expect in the stock market. Strength in the US dollar would also give the Fed breathing room to not raise interest rates as quickly.
Global growth may have peaked in 2021 and although growth is slowing in relative terms it is definitely not slow. Among long term investors this is to be expected as economies open more broadly. The technology sector has been the lockdown leader with many companies making long term investments that will benefit their shareholders both now and well into the future. Although shortages can spike demand and prices, gluts in inventories and supplies can negatively impact a company's growth prospects.
For the year 2021, the Dow, S&P 500, and NASDAQ are ahead at 18.73%, 26.89% and 21.39%, respectively, with the yield on the 10-year Treasury at 1.51%.
We hope that you all have a healthy and safe Happy New Year!
*Disclaimer: This report is a publication of Marchand Faries Financial Management, Inc. Information presented is believed to be factual and up-to-date, but we do not guarantee its accuracy and it should not be regarded as a complete analysis of the subjects discussed.  All expressions of opinion reflect the judgement of the author as of the date of publication and are subject to change.