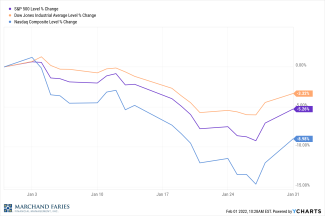 Welcome to 2022! As with any new year there is anticipation about what to expect.
Although politics and covid still dominate the general news financial news is focused on inflation. Inflation surged to 7% in 2021, a rate not seen in 40 years.
Despite strong jobs gains the US still has over 2.7 million fewer people in the workforce than in January 2020. Fewer workers meant less ability to meet demands for goods and services and the country is met with a supply/demand imbalance. With the US consumer flush with cash from three rounds of stimulus, there has not been backlash to higher prices.
January was a volatile month for stocks, as the inevitability of higher interest rates and tighter financial conditions loom. The Nasdaq Composite shed 8.98% for the month of January as the index continues to languish in a correction or drop of at least 10% from a recent record high. The S&P 500 has dropped 5.26% in January, which would mark its worst month since March 2020. The Dow has declined by 3.32%. The 10-year Treasury is currently yielding 1.79%.
Whether the Federal Reserve can raise interest rates and adjust its policies to bring down inflation without negatively impacting economic growth and corporate profits remains to be seen. No central bank wants to kill the economy to bring inflation down. We expect three to four interest rate hikes this year, with the first occurring at the March meeting. We think that there is a greater risk that they move too slowly and allow inflation to get even further ahead of them. The biggest key factor may be fuel costs which affect everything from food to building supplies. We expect fuel prices to remain high for a long time. As always, quality investments stand the test of time and that is our focus.
As tax season begins, we encourage you to gather any important tax information you receive beginning now and to mid-February and keep it in a central location.
*Disclaimer: This report is a publication of Marchand Faries Financial Management, Inc. Information presented is believed to be factual and up-to-date, but we do not guarantee its accuracy and it should not be regarded as a complete analysis of the subjects discussed.  All expressions of opinion reflect the judgement of the author as of the date of publication and are subject to change.