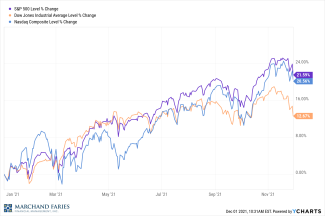 November proved to be a more volatile month than is typical with both the Dow and S&P 500 finishing the month lower while the NASDAQ held on to its monthly gains.
So far, holiday shopping was stronger than last year at this time, which was expected since last year lockdowns and unemployment-controlled spending. The biggest surprise to the markets was Federal Reserve chairperson Jerome Powell's comments regarding removing stimulus faster than originally planned and the new revelation that inflation is broader than the Fed expected and may be more than just "transitory." 
The other factor causing volatility in the markets is the new omicron variant of the COVID 19 virus. Although little is currently known about transmissibility and severity, any unknown introduced to the economy can spark new anxiety at least in the short term.
Consumer confidence is lacking and although jobs continue to be added, labor participation remains low while the US inflation rate is running at 6.2%. Moderate inflation of around 2% is good for economic growth. When consumers expect prices to rise, they are more likely to buy now rather than wait. That action spurs demand which then drives prices higher. High inflation affects middle- and lower-income families the most, and results in an invisible and often unavoidable tax.
Year to date, the Dow, S&P 500, and NASDAQ are still all in the black at 12.67%, 21.59% and 20.56%, respectively, with the yield on the 10-year Treasury at 1.52%.
 
As we enter the holiday season, we would like to take this opportunity to wish you and your family health, peace, and joy both now and throughout the coming year.  
*Disclaimer: This report is a publication of Marchand Faries Financial Management, Inc. Information presented is believed to be factual and up-to-date, but we do not guarantee its accuracy and it should not be regarded as a complete analysis of the subjects discussed.  All expressions of opinion reflect the judgement of the author as of the date of publication and are subject to change.