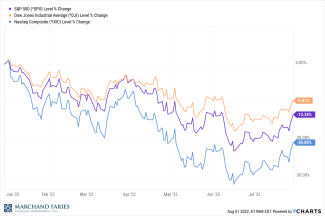 This past July has been an atypical month historically. Typically, July is up  only 48% of the time and is tied with September for the worst month for stock performance. The historic average return for July is a meager 0.38%.  However, July 2022 had all three stock market indices up. 
As earnings season begins, we expect corporate numbers to come in as relatively benign and forecast numbers to be cautiously optimistic. Inflation, supply chain issues, higher interest rates continue to frustrate the growth of businesses and affect all households to varying degrees.  Inflation has always been and continues to be a harsh tax on lower income families. 
The US economy  shrank for a second consecutive quarter over the three months ending June 30, 2022, meeting the historic definition of a recession. Consumer sentiment is sitting at an all time low, according to data from the University of Michigan's benchmark survey, while June retail sales data showed a modest month-on-month decline once the impact of inflation is factored-in to the overall total. Headline inflation surged to a 41-year high of 9.1% in June, while so-called core inflation, which eliminates the food and energy component, is rising at an accelerating rate of 5.9%. 
With all these factors considered the Atlanta Fed's GDPNow forecasting tool is suggesting the U.S. economy is currently contracting at approximately 1.6% over the first few weeks of the third quarter. That being said and the near-term future being unpredictable, we believe that risk management, quality investments, quarterly rebalancing, which we just completed, all contribute to a disciplined long-term strategy.
Year-to-date Dow, S&P 500, and NASDAQ have improved slightly but remain negative at -9.61%, -13.34% and -20.80% respectively, while the 10-year Treasury yield is currently yielding 2.65%.
*Disclaimer: This report is a publication of Marchand Faries Financial Management, Inc. Information presented is believed to be factual and up-to-date, but we do not guarantee its accuracy and it should not be regarded as a complete analysis of the subjects discussed.  All expressions of opinion reflect the judgement of the author as of the date of publication and are subject to change.